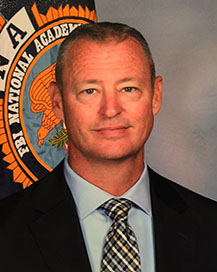 I am proud to assume the position of Chapter President for the FBINAA Maryland/Delaware Chapter for 2021. This past year has presented so many challenges for leaders in law enforcement. In no time in our history is it more important to come together, share best practices, train, and maintain our collective commitment to charitable endeavors.
I attended the 266th Session of the FBI National Academy. I immediately recognized the value of our shared experience and was honored to join our Chapter Executive Board soon after my return. Over the past four years, I have been proud to work with the other members of the Executive Board and law enforcement leaders from across the states of Maryland and Delaware, and the country, on matters of collective concern.
Our profession has faced numerous challenges throughout 2020. These include a global pandemic, calls
for police reform, social unrest, and traditional concerns such as violent crime and terrorism. Understanding the multitude of challenges going into 2021, it is fundamentally important that we continue to collaborate and train together to prepare to face these challenges. The Maryland/Delaware Chapter has tentatively selected the week of September 26, 2021 to host our annual training event in Dover, Delaware. We are looking forward to offering an agenda that speaks to our shared challenges.
As a board, we are optimistic that we will be able to return to our traditional events that allow networking and collaboration. We are hopeful that we will be able to attend the Orioles game in May as well as a new event associated with NASCAR. We will also be hosting the annual Navy tailgate and golf tournament in the fall. In addition, we will host our well attended crab feast and annual fishing event in October. These networking opportunities allow time for chapter membership to meet in person. It also allows our membership to interact with our critically important strategic alliance partners who play a valuable role in supporting our law enforcement mission.
Finally, the Maryland/Delaware Chapter will host its annual Past President's luncheon to honor those who have supported the chapter's mission historically. We will conclude the year with our annual business meeting.
The Maryland/Delaware Chapter was proud to build upon past charitable works in 2020 by offering the most significant scholarship support in the Chapter's history, The Chapter looks forward to continuing to support these academic scholarships, support for Special Olympics in both Maryland and Delaware in addition to other charitable opportunities.
I will offer a word of thanks in advance to our members, FBI partners, law enforcement partners, and our strategic alliance partners. Together we will meet all the challenges that 2021 will certainly present. I look forward to working with the Executive Board in 2021 and wish all the chapter membership safety and wellness.
Daniel K Meadows, President 2021
FBINAA Maryland Delaware Chapter