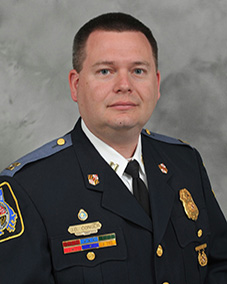 As a graduate of the 241st Session and chapter member since 2010, I am very proud to serve as the 9th Maryland-Delaware Chapter President from the Baltimore County Police Department. I was inspired to attend the National Academy by leaders in my agency, and I was inspired to join the Executive Board by officers before me. I hope to continue and build upon the great work of our leaders that went before me.
The Maryland-Delaware Chapter of the FBI National Academy Associates is committed to enhancing the professional development of our membership and giving strength, dignity, and credit to the profession of law enforcement. As an organization of law enforcement leaders, we fulfill our commitments through training, networking, and charity in 2020 and beyond.
Our Annual Retrainer will be April  7-9, 2020 in Annapolis, Maryland. We are assembling an excellent agenda of presenters that will make this a first rate conference. In support of the profession of law enforcement, we are opening this conference to non-member law enforcement professionals.
Our 2020 Networking Events will include all of your cherished traditions, such as the Orioles Game, Navy Game, and Crab Feast. We are also adding networking opportunities, including a New York Trip and Fishing Excursion. With some of the most well attended networking events of any chapter, Maryland-Delaware has a lot to offer.
Our 2020 Charitable Causes will continue to be Special Olympics and the College Scholarship Program. Please support the causes by participation in the Golf Tournament and Chapter Raffles.
Thank you to our members, FBI partners, and corporate partners for your support and assistance in bolstering the continued excellence of the Maryland-Delaware Chapter in 2020!
Joseph D. Conger, President 2020
FBINAA Maryland-Delaware  Chapter